Before you install
Please ensure that you meet the requirements to install a custom creative template.
Part 1: Download and extract files
Download a custom creative template from your purchase page and unzip the files to your local computer with a compression tool. There will be creative template file with the extension ".dfp-template".
If you haven't received an email or lost the link to your purchase page, follow instructions here.
Part 2: Import creative template to DFP
1. Sign In to your DFP account.
2. Select desired DFP account if you have multiple accounts.

3. Navigate to the Delivery tab.

4. Click Creatives -> Creative templates in the left panel.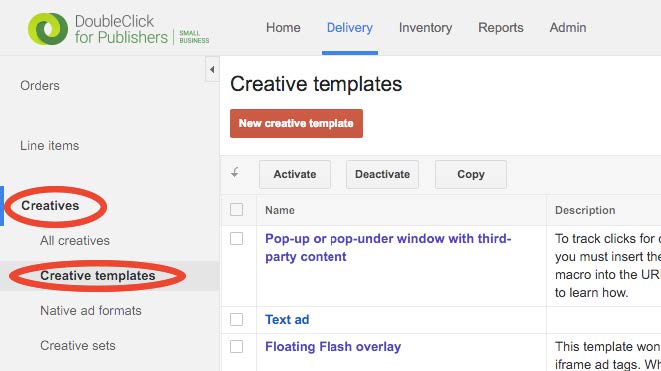 5. Click New creative template -> Import.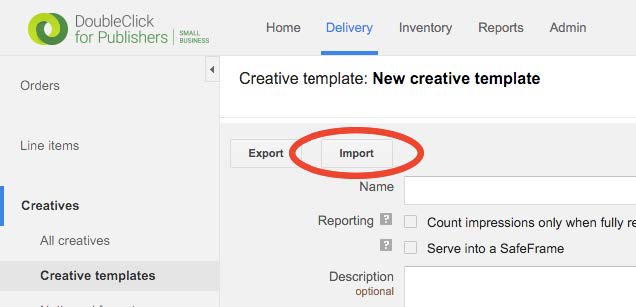 6. You will be asked to select a file. Select creative template file (with extension ".dfp-template") from unzipped archive.
The creative template will appear with fields, code snippet and import completion notification after a short moment.
Keep Reporting option "Serve into a SafeFrame" unchanged after import. This value changed can break a template.
If you use imported creative template for out-of-page line items, select Reporting option "Count impressions only when fully rendered". Otherwise keep this option unchecked.

7. You can change imported template's name, default values and other values if you want, read more.
8. Click Save at the bottom of the page. The imported template will be visible in the "Creative Templates" page now.

Now a creative template is installed.
Part 3: Use creative template
After installation, you can add creatives with this template to line items, read more.